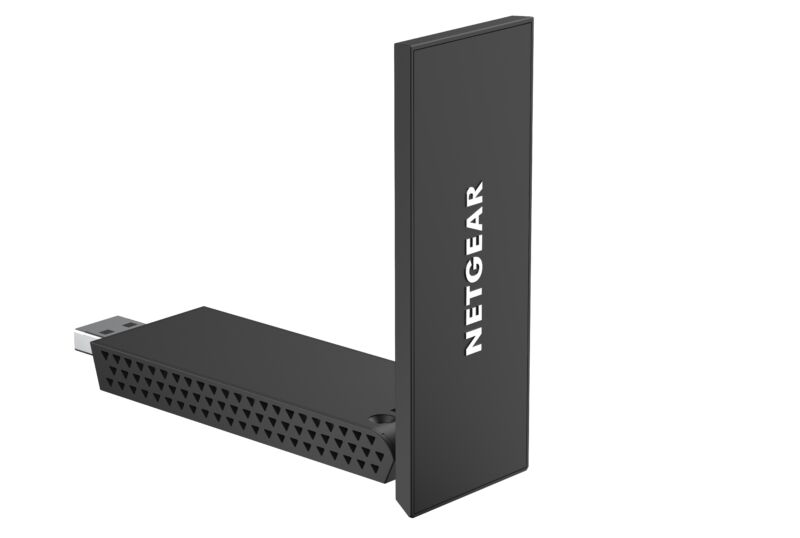 Wi-Fi 6E-producten zijn tegenwoordig beschikbaar voor consumenten, maar u zou het waarschijnlijk niet weten als u rondkijkt in het gemiddelde huishouden. Hoewel ondersteunende apparatuur de afgelopen jaren is uitgerold, hebben tekorten aan componenten, tevredenheid met Wi-Fi 6 en de op handen zijnde komst van Wi-Fi 7 ertoe geleid dat velen de nieuwste draadloze standaard over het hoofd hebben gezien. Netgear wil adoptie gemakkelijker maken door een USB-adapter aan te kondigen die Wi-Fi 6E naar ondersteunende systemen brengt via een USB 3.x Type-A-verbinding.
Netgear's Nighthawk AXE3000 WiFi 6E USB 3.0-adapter (A8000) aangekondigd woensdag werkt met laptops en desktops. Volgens de aankondiging van het in San Jose, Californië gevestigde bedrijf, ondersteunt het de 2,4 GHz-band tot 600 Mbps, de 5 GHz-band tot 1200 Mbps en de 6 GHz-band tot 1200 Mbps.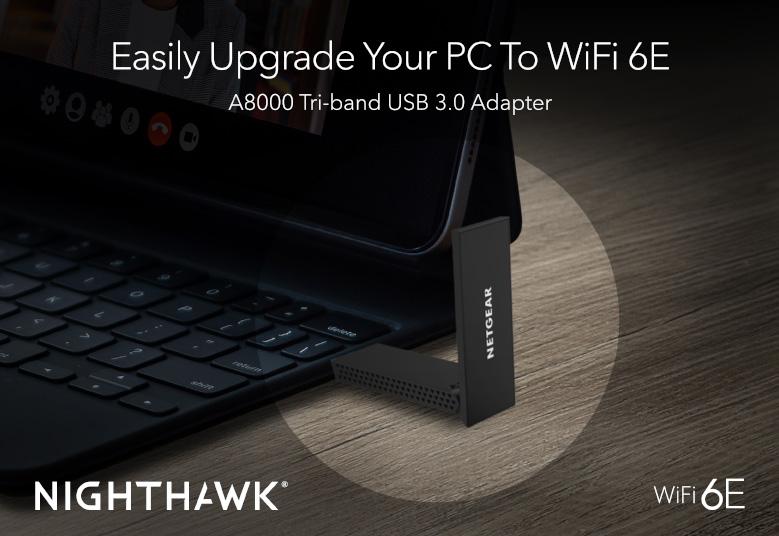 De adapter maakt gebruik van een uitklapbare antenne en er is een optionele houder die de adapter kan vasthouden en via de USB-A-kabel op een pc kan worden aangesloten, zodat u de adapter kunt verplaatsen voor een verbeterd signaal.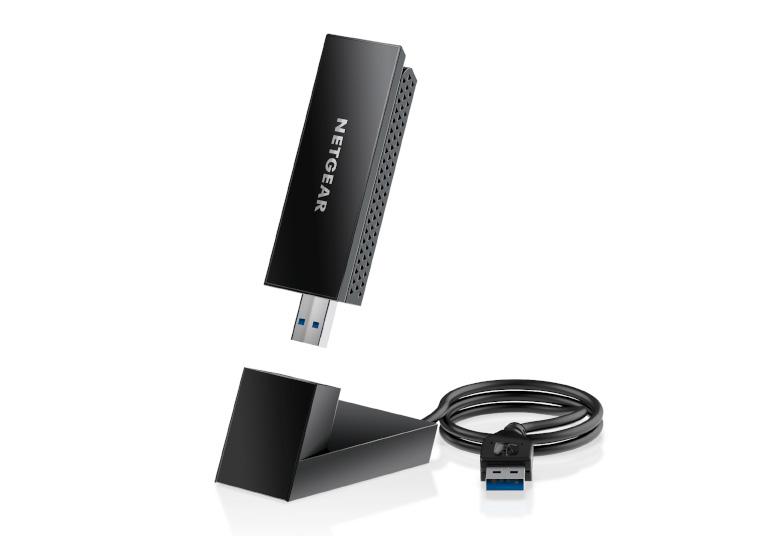 Zonder wifi 6E-router haal je natuurlijk niet het maximale uit de adapter. En je kunt Wi-Fi 6E niet gebruiken op een Mac.
Wi-Fi 6E is een boost ten opzichte van Wi-Fi 6 door gebruik te maken van de 6 GHz-band naast de 2,4 en 5 GHz-band voor minder congestie en lagere latentie. Kortere golflengten betekenen echter dat het op kortere afstanden maximaal is, vooral als obstakels, zoals muren, een rol gaan spelen. Uw prestaties zijn ook afhankelijk van de maximale snelheden die u van uw internetprovider kunt krijgen.
Voor de toekomst wordt verwacht dat het Institute of Electrical and Electronics Engineers de Wi-Fi 7-specificatie tegen 2024 zal afronden, waarbij spelers zoals Intel voorspellen dat Wi-Fi 7-pc's tegen 2025 uitkomen. Wi-Fi 7 zou op Wi-Fi moeten verbeteren. Fi 6E door de maximale kanaalbandbreedte van 160 MHz naar 320 MHz te verhogen en de doorvoer met maximaal 20 procent te verhogen naarmate het van 1.024 kwadratuur-amplitudemodulatie (QAM) naar 4.096 QAM gaat en multi-link-bediening (MLO) en multi-resource unit-puncturing introduceert .
Dat gezegd hebbende, is een eenvoudige manier om Wi-Fi 6E aan uw pc toe te voegen misschien niet voldoende om over te stappen naar de standaard. Maar voor degenen die de uitrusting, ruimte en interesse hebben om de upgrade de moeite waard te maken, zei Netgear dat het deze maand de AXE3000 zou uitbrengen tegen een adviesprijs van $ 90.