Apple is van plan om in het vierde kwartaal van 2022 nieuwe MacBook Pro-modellen uit te brengen, volgens publicatie in de toeleveringsketen DigiTimes. Het rapport vermeldt geen specifieke modellen, maar verwijst zeer waarschijnlijk naar de volgende generatie 14-inch en 16-inch MacBook Pro's, aangezien het 13-inch model eerder dit jaar al werd geüpdatet.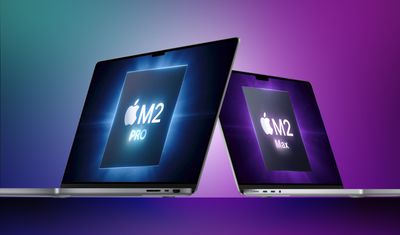 Er was onzekerheid over de timing van de nieuwe 14-inch en 16-inch MacBook Pro-modellen en of ze zouden worden uitgerust met 5nm- of 3nm-chips, maar het wordt steeds waarschijnlijker dat de notebooks later dit jaar zullen worden uitgebracht met 5nm-chips. Naar verwachting zal Apple in oktober een evenement houden gericht op de Mac en iPad, dus het zou passend zijn als de nieuwe MacBook Pro-modellen dan worden aangekondigd.
In augustus, Bloomberg's Mark Gurman meldde dat MacBook Pro-modellen met M2 Pro- en M2 Max-chips "ver in ontwikkeling en testen" waren bij Apple. De notebooks zullen volgens analist Ming-Chi Kuo, na een ingrijpend herontwerp in oktober 2021, weinig nieuwe functies hebben naast de snellere chips.
Het nieuwste ontwerp van de high-end MacBook Pro omvat een chassis met plattere randen, een inkeping aan de bovenkant van het scherm, nieuw leven ingeblazen poorten zoals MagSafe en HDMI, en meer. MacBooks gaan meestal meerdere generaties mee tussen grote hardwarewijzigingen.
Hoewel ze misschien 5nm blijven, wordt verwacht dat de M2 ​​Pro- en M2 Max-chips worden vervaardigd op basis van het nieuwere 5nm-proces van TSMC dat bekend staat als "N5P", dus de nieuwe MacBook Pro-modellen zouden nog steeds prestatie- en energie-efficiëntieverbeteringen hebben. Een grotere prestatieverbetering zou echter komen van de overstap naar 3nm-chips in 2023 of later.
MacBook-zendingen zijn "relatief stabiel gebleven" in vergelijking met op Intel gebaseerde Windows-laptops, volgens DigiTimes. De lancering van de nieuwe MacBook Air met de M2-chip in juli, in combinatie met de aanstaande lancering van nieuwe MacBook Pro-modellen, zou ertoe kunnen leiden dat het marktaandeel van Apple voor notebooks in 2022 het hoogste niveau in vijf jaar bereikt, aldus het rapport.