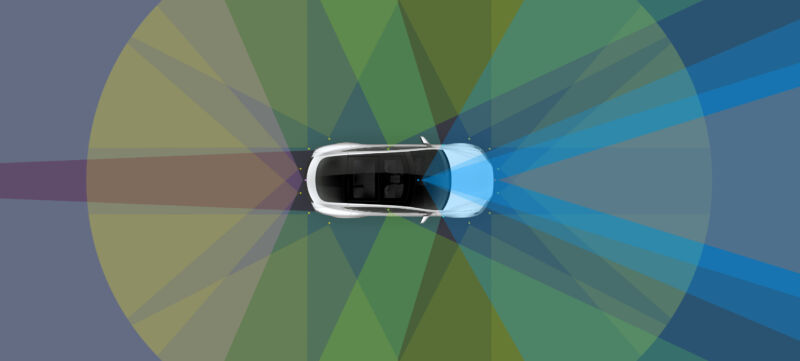 Tesla kondigde woensdag aan dat het nog een set sensoren uit zijn elektrische voertuigen laat vallen. Het laatste slachtoffer? Ultrasone sensoren, meestal ingebed in de bumpers, die geassisteerde parkeerfuncties mogelijk maken.
In het begin zijn het alleen de Modellen 3 en Y die uitsluitend vertrouwen op camera's voor het hele scala aan rijhulpmiddelen die Tesla biedt. De automaker zegt echter dat hij na het wereldwijd uitrollen van deze wijziging in 2023 hetzelfde zal doen voor de Modellen S en X.
Tesla zegt dat ondanks het wegvallen van radar van zijn adaptieve cruisecontrol en automatische noodremfuncties – die nu uitsluitend afhankelijk zijn van camera's – zijn voertuigen "hun actieve veiligheidsclassificaties in de VS en Europa hebben behouden of verbeterd en beter presteren bij automatisch noodremmen voor voetgangers ( AEB) tussenkomst."
De autofabrikant ontkent echter het feit dat het verwijderen van radar van zijn EV's heeft geleid tot een lopend onderzoek van de National Highway Traffic Safety Administration naar honderden gevallen van fantoomremmen – in feite vals-positieve activeringen van het automatische noodremsysteem van de auto.
Tesla zegt dat de prestaties van zijn systemen in de loop van de tijd zullen verbeteren en dat Modellen 3 en Y die zonder de ultrasone sensoren aankomen, niet in staat zullen zijn tot parkeerhulp, automatisch parkeren, dagvaarding of slimme oproeping. Tesla beweert dat deze functies zullen worden hersteld zodra het vision-only systeem pariteit heeft bereikt met de oude ultrasone sensoren.