De waardering van Joe Biden ligt op hetzelfde niveau als die van Ronald Reagan in de aanloop naar de eerste tussentijdse verkiezingen van de Republikeinse president.
Uit een dinsdag gepubliceerd Gallup-enquête bleek dat 42 procent van de Amerikaanse volwassenen Bidens baan als president goedkeurt, iets minder dan de 44 procent die hij opnam in de peiling van augustus, maar een stijging ten opzichte van zijn laagste punt ooit van 38 procent in juli.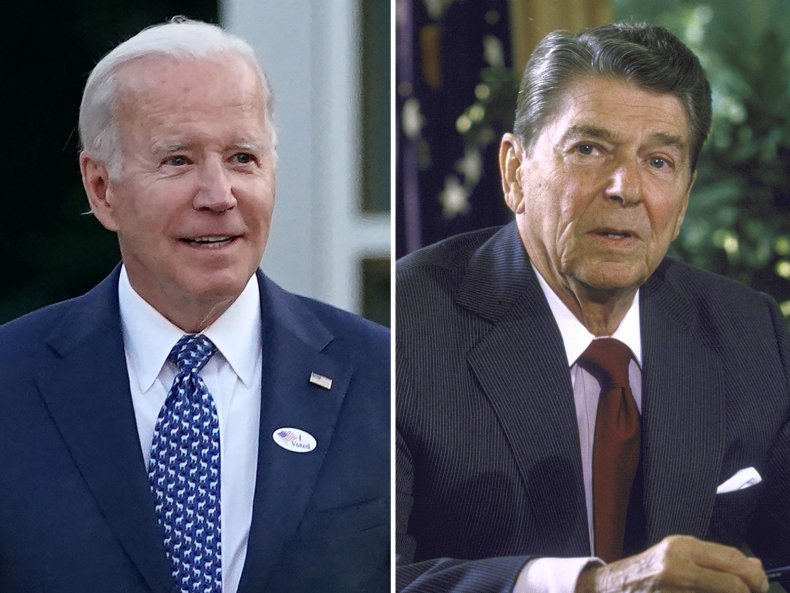 Bidens goedkeuringspercentage van 42 procent in september van een tussentijds verkiezingsjaar is hetzelfde als dat van Reagan in 1982 en dat van Bill Clinton in 1994.
Biden heeft twee punten voorsprong op de goedkeuringsclassificatie van Donald Trump voor zijn eerste tussentijdse verkiezing, maar drie punten achter de goedkeuringsclassificatie van 45 procent van Barack Obama in september 2010 en die van Jimmy Carter in 1978.
De goedkeuringsclassificatie van de tweevoudig president Reagan zou in de maanden na zijn eerste tussentijdse verkiezing tot 35 procent dalen, voordat hij eind 1983 opliep tot halverwege de jaren vijftig en in 1986 de jaren zestig bereikte.
De beoordeling van Biden komt min of meer overeen met die van recente presidenten rond dezelfde periode, met twee opmerkelijke voorbeelden die veel hogere goedkeuringsclassificaties optekenen.
In 1990 kreeg George Bush sr. een goedkeuringsscore van 73 procent na de reactie van de VS op de invasie van Koeweit door Irak.
Zijn zoon George W. Bush – wiens goedkeuringscijfers maar liefst 90 procent waren in de Gallup-peilingen in de nasleep van de terreuraanslagen van 9/11 – noteerde in september 2002 67 procent.
Hoewel de goedkeuringsclassificaties van Biden de afgelopen weken enigszins zijn verbeterd, loopt hij nog steeds ver achter op de lage tot midden jaren vijftig die hij in zijn eerste paar maanden in functie had, waarbij een meerderheid van de Amerikanen zijn baan als president nog steeds afkeurt.
Het valt nog te bezien of de goedkeuringsclassificatie van Biden voldoende kan blijven stijgen zodat de Democraten het Congres en de Senaat in november kunnen vasthouden. Doorgaans lijdt de partij in het Witte Huis zware verliezen tijdens de tussentijdse verkiezingen, waarbij de verkiezingen worden gezien als een referendum over de zittende president.
"De huidige rating van 42 procent van Biden komt over het algemeen overeen met die van vijf van zijn zeven voorgangers op hetzelfde punt in hun presidentschap", zei Megan Brenan, onderzoeksadviseur bij Gallup, in een verklaring.
"Bij die tussentijdse verkiezingen verloor de partij van de president tussen de 15 en 63 congreszetels. De presidenten wier partijen grotere verliezen leden, hadden over het algemeen een veel grotere meerderheid in het Huis van Afgevaardigden dan de Democraten nu."
Er is contact opgenomen met het Witte Huis voor commentaar.