Wat je moet weten
We vroegen onze lezers wat ze vinden van het Dynamic Island op de iPhone 14.
Ongeveer 40% vindt het cool, maar slechts de helft wil iets soortgelijks zien op Android.
Ongeveer 35% van de kiezers vindt de functie zwak, terwijl 20% zegt dat het "goed" is.
Na geruchten dat Apple de inkeping zou weggooien voor een pilvormige displayuitsparing, kondigde het bedrijf dit eindelijk aan met de iPhone 14 Pro, met enkele softwaretrucs om de uitsparing te verbergen en te laten versmelten met de software. Het heet Dynamic Island en geeft iPhone-gebruikers een nieuwe manier om met apps en meldingen om te gaan.
Toen we onze lezers echter vroegen of ze het idee wel of niet leuk vonden, waren de meningen behoorlijk verdeeld. Van de meer dan 2.000 stemmen zei een meerderheid dat de functie zwak is. En hoewel een gecombineerde 42% zegt dat het een coole functie is, zijn die stemmen behoorlijk verdeeld over de vraag of ze denken dat het naar Android moet komen. Nog eens 20% zegt dat de functie gewoon "goed" is.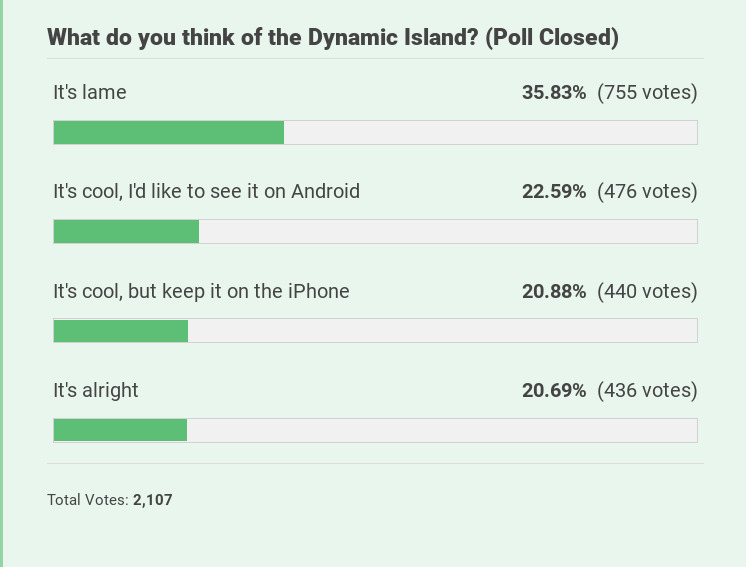 Veel Android-gebruikers zeggen dat het niet veel verschilt van wat de beste Android-telefoons kunnen doen. CJ op Twitter zegt dat het net als Apple is om een ​​oude functie of ontwerp te nemen en er een draai aan te geven om er iets nieuws van te maken:
"Ik ben erg in de war geraakt door alle "hub-bub" eromheen. We nemen de perforatorcamera die al tien jaar bestaat en maken er een "functie" van? Echt een Apple move…"
Ondertussen geeft Franklin Fulgencio Apple de eer voor zijn slimme software:
"Niets te veel anders dan Android al implementeert. Maar ik moet zeggen dat Apple de gebruikersinterface met de camera aan de voorkant wel wat aantrekkelijker maakt."
Adam op Twitter is het ermee eens dat het een leuke functie is, maar zinloos op Android:
"Het is een coole manier om de enorme gezichtsontgrendeling / selfie-cam die is uitgesneden enigszins te verbergen, maar Android heeft het niet nodig."
James wijst op een mogelijke ontwerpfout die Dynamic voor sommige gebruikers lastiger kan maken om te gebruiken:
"Als je bedenkt hoe groot telefoons tegenwoordig zijn en dat het erom ging alles beter bereikbaar te maken, zou ik het vreselijk vinden als een functie op het meest onbereikbare punt van de telefoon zou worden geplaatst."
Dit zou met name het geval kunnen zijn voor de iPhone 14 Pro Max, die een vrij groot 6,7-inch OLED-scherm heeft.
Dus terwijl ontwikkelaars werken aan manieren om deze functie naar Android te brengen, lijken niet al te veel mensen te denken dat het een functie is die Android zou moeten 'stelen'.